ORDER®  WIP-609  cleanroom wipers
Specifications
Style :     Sheet
Color :     white
Dimensions :    23cm L x 23cm W
Sold as :       300 wipes per dispenser
Composition :     55 % cellulose / 45 % polyester
Customized size is available
We can customize the products and package as per your requirement from material, weight, size, color and design to package.
This special wipers are designed for wiping tasks where low lint or use of chemicals are required. Engineered for critical applications involving solvents, inks, and paints
Good quality from China Disposable electronic cleanroom Use cleaning cloth
 55% Cellulose 45% PET Electronic Nonwoven Clean room Wipes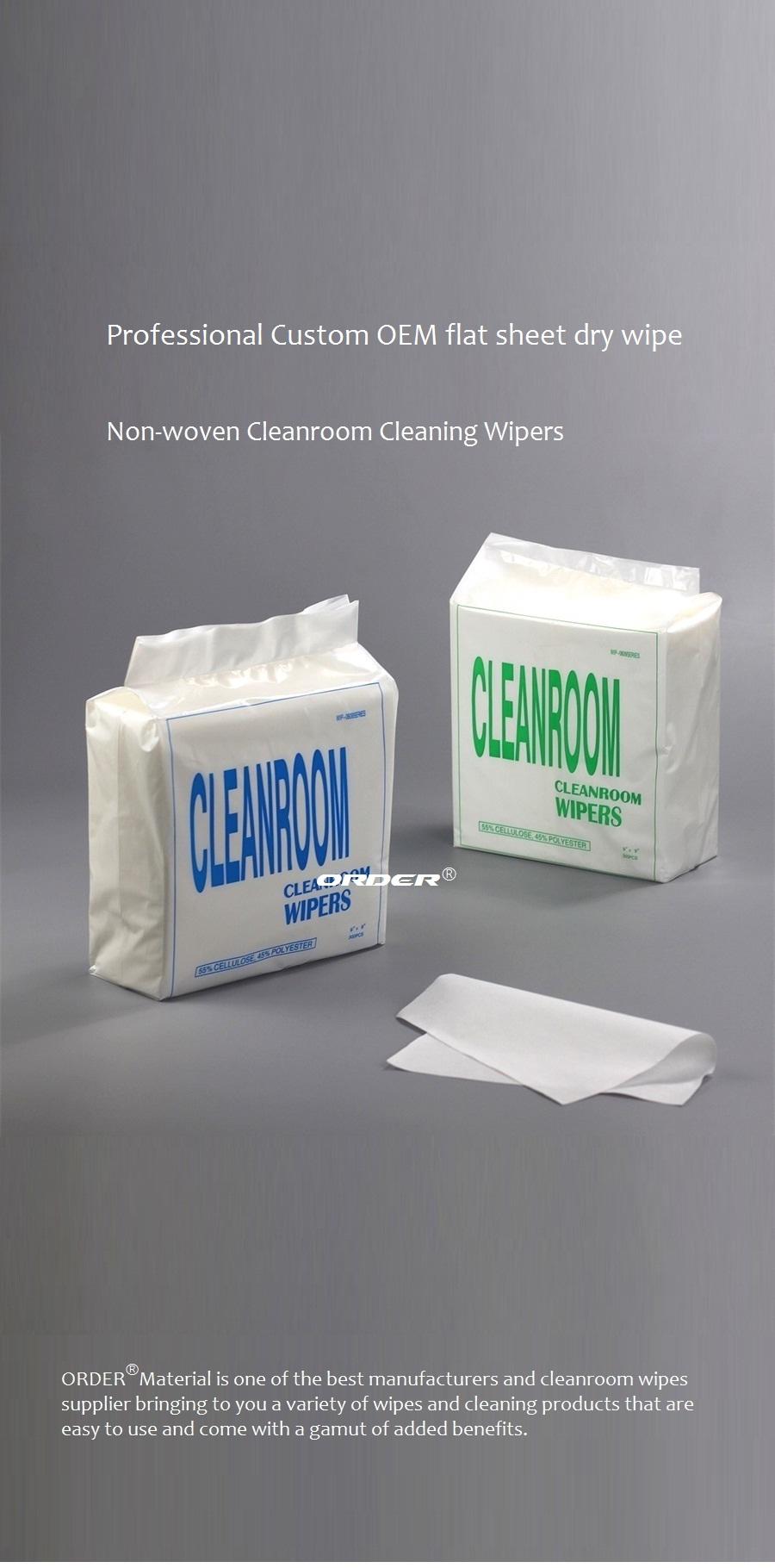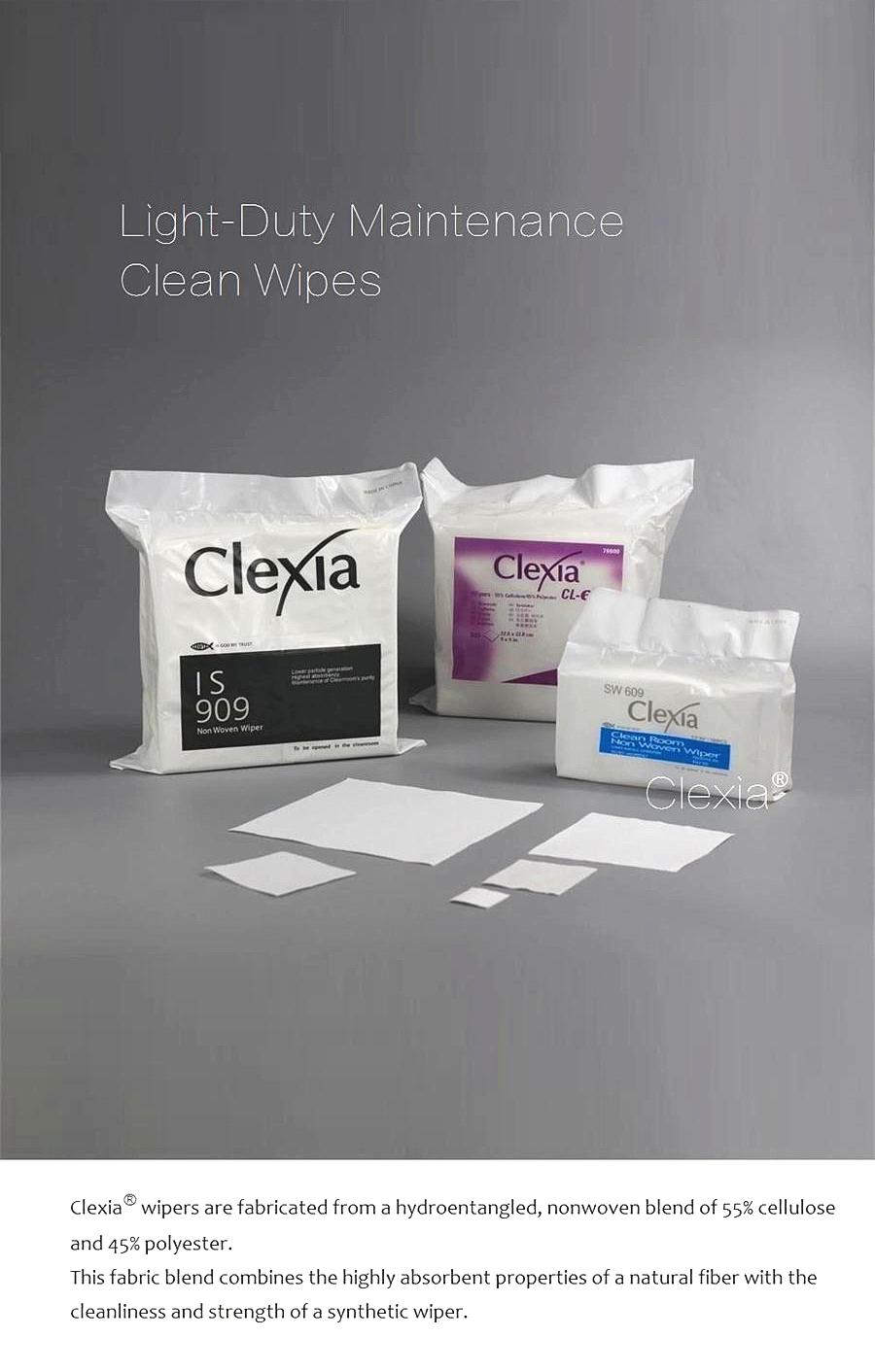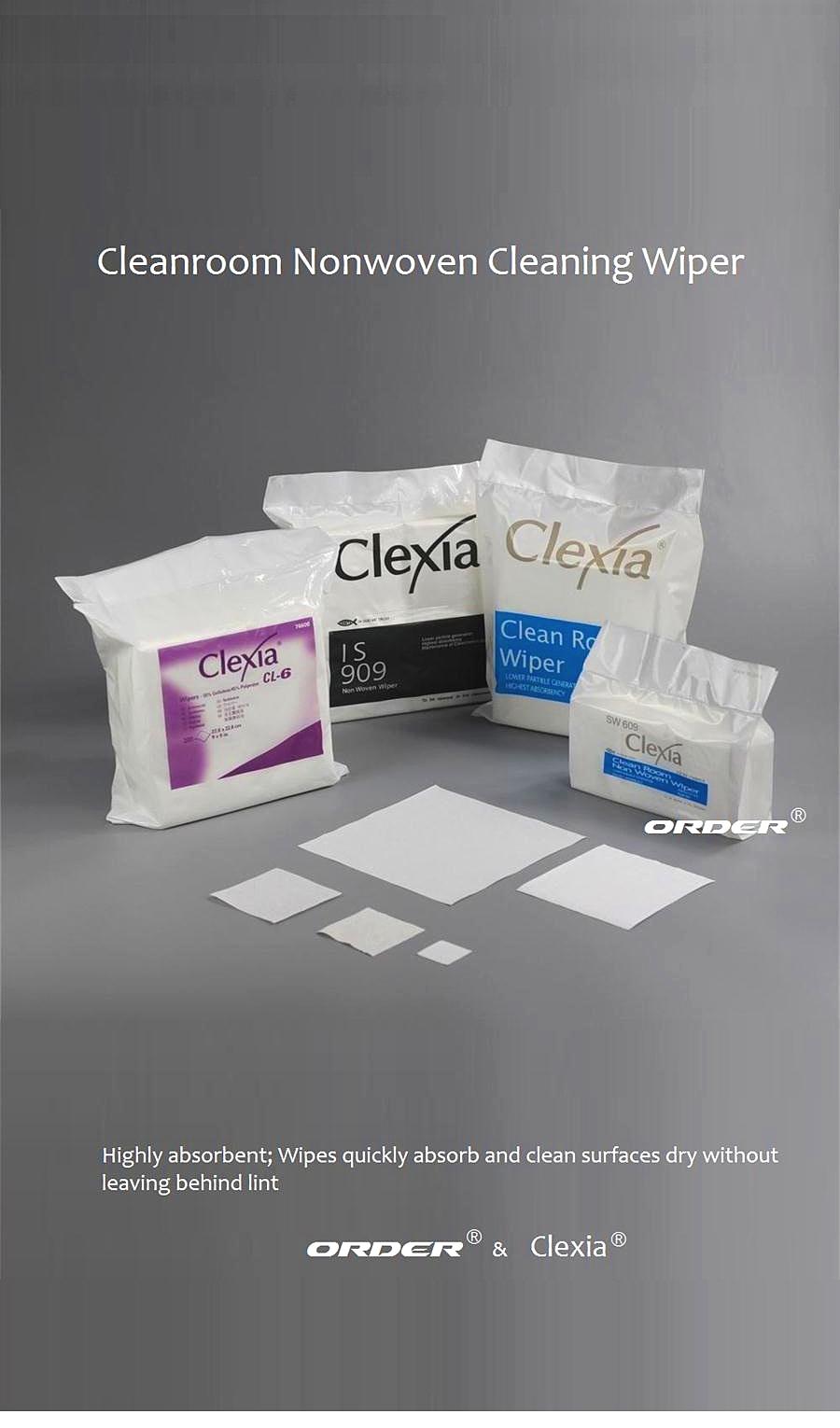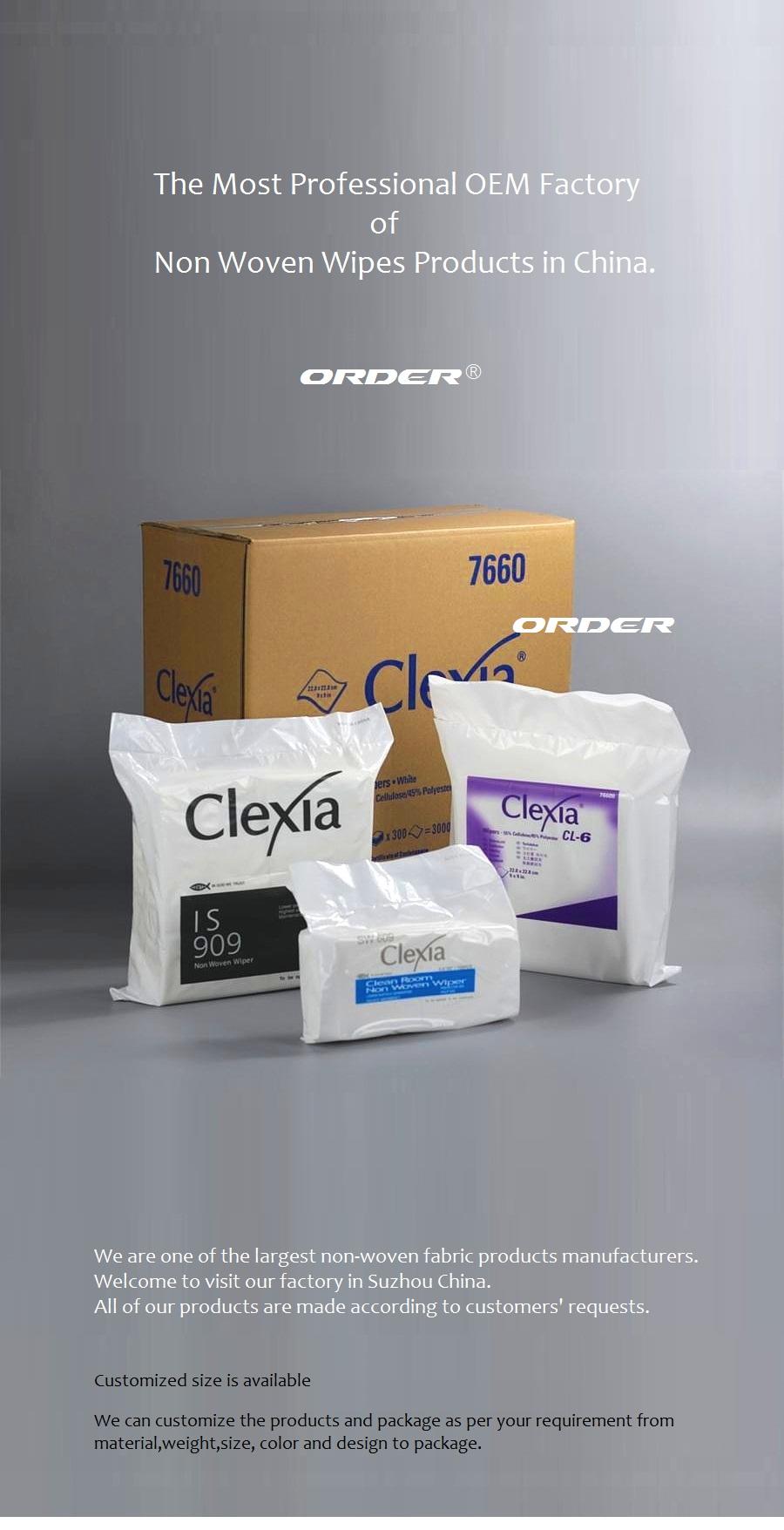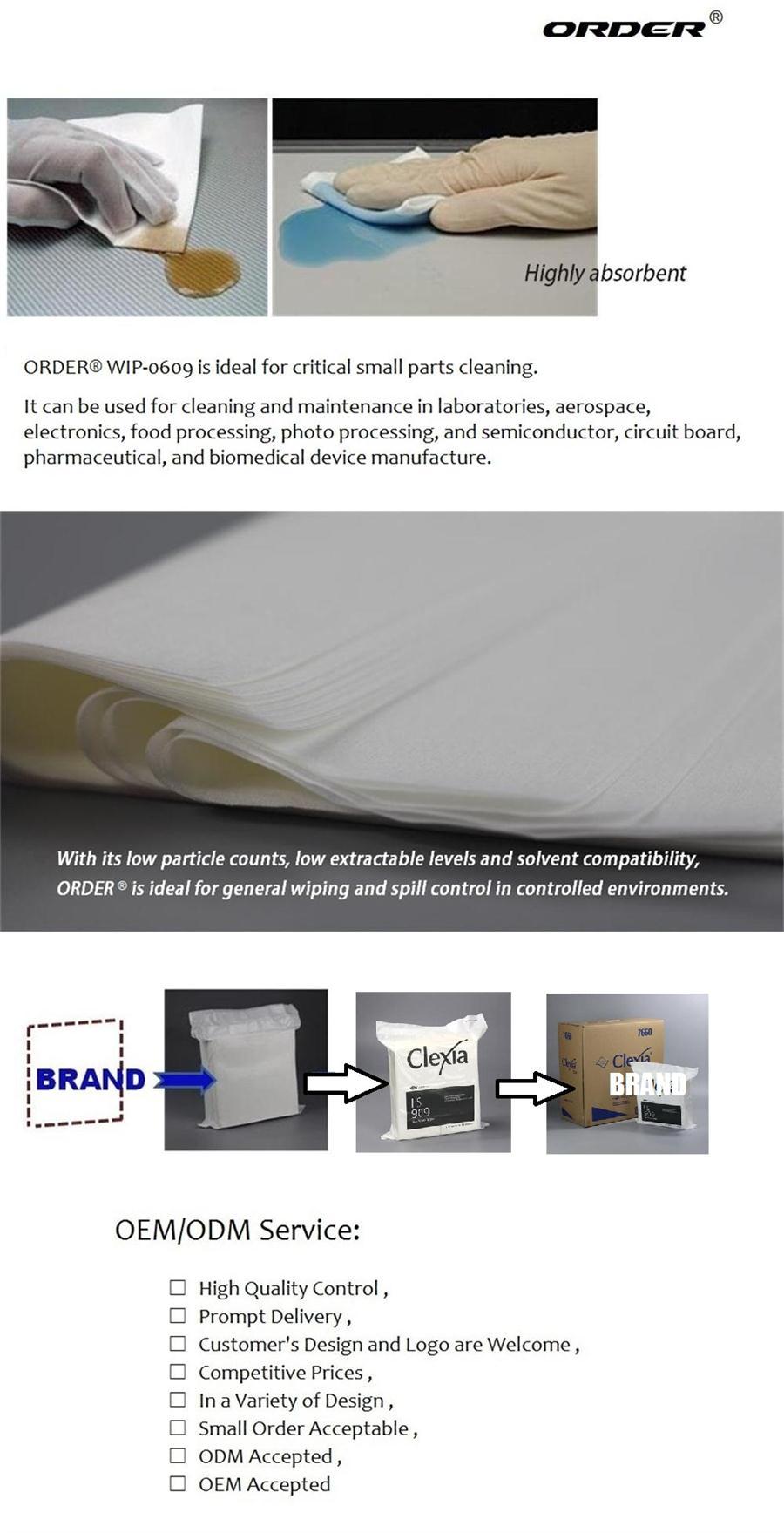 Name
  Model
Size(")
Standard Package(wipers/bag)
Qty of Package(bags/ctn)
NonwovenCleaning wipes
   WIP-0602
  2"*2"
  4800
  10
   WIP-0603
  3"*3"
  2700
  10
   WIP-0604
  4"*4"
  1200
  10
   WIP-0606
  6"*6"
  300
  20
   WIP-0609
  9"*9"
  300
  10
   WIP-0612
  12"*12"
   300
  10
Material
  45% polyester+55% cellulose
Basis weight
50 gsm,56gsm, 60gsm,68gsm,80gsm. typical weight is 56gsm/68gsm
Color
  White(typical),Blue(available)
Customized size is available
We can customize the products and package as per your requirement from material,weight,size, color and design to package.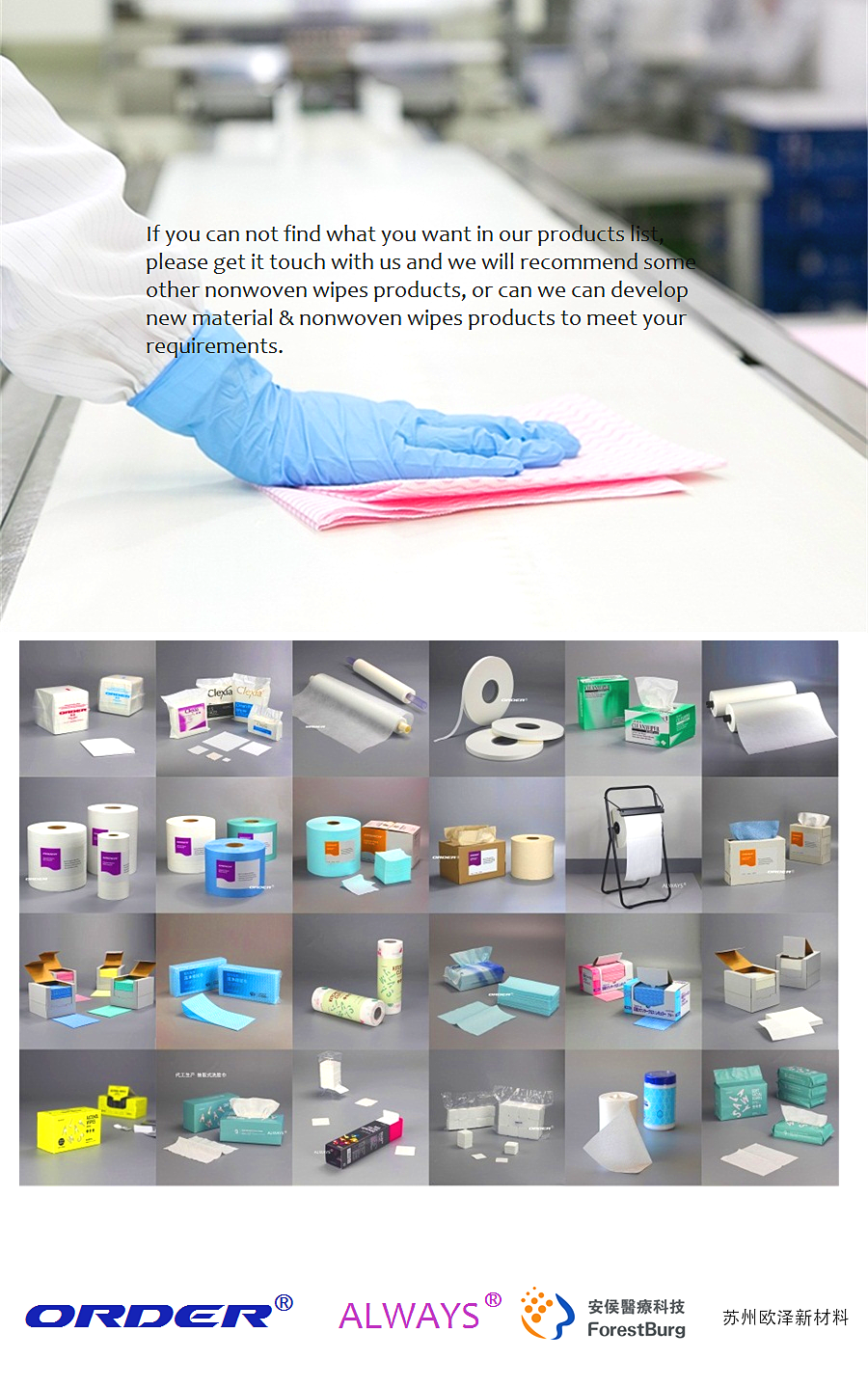 ORDER ® WIP-0609 nonwoven styles (Cellulose/polyester) are engineered for cleanroom use and combine absorbency of a natural fibre with the cleanliness and strength of a synthetic
ORDER ® WIP-0609 is designed to be your choice wipe for critical applications. Specifically engineered for cleanroom use, this product is recommended for ISO 6-9* cleanrooms.
Free from particles and additives and contains no binders or chemicals, its absorbent ability, cleanliness and low lint creation make it the perfect product to clean spills in your cleanroom environment. *Requirements for wiping and cleaning levels may vary.
Choosing the appropriate wipe depends on many factors such as the type of surface to be cleaned (i.e. Is it smooth or rough, with edges or without edges, etc), the required level of cleanliness, procedures employed and more.
Features 
1. Fiber blend (55% cellulose +45% polyester)
2. Nonwoven,hydroentangled construction with excellent bidirectional strength
3. Highly absorbent
4. Compatible with most solvents
5. Contains no chemical binders
6. Low extractable levels
Applications 
1.   Wiping cleanroom,opticsinstrument,electronic,apparatus,precisioninstruments
2.  Cleaning appliance and instrument in fibermanufacturing and laboratory.
3.  Cleaning oil ,water,dust and chemical reagenton parts and tools.
4.  Wiping and maintaining the mechanical equipments.
5.  Cleaning machine in food processing, printing and packaging industry.
We are committed to supplying the highest quality, most consistent cleanroom wipers.
To fulfill that commitment, we develop technology and innovation to manufacture the highest quality, most state-of-the-art, industry-leading products that keep your cleanroom clean.
ORDER® Clexia®Cloth offers a family of blended general purpose nonwoven wipers for cleaning and spill control in critical environments.
Featuring a 55% polyester / 45% cellulose blend, our non-woven collectionsconsist of hydroentangled cellulose and polyester fibers.This blend combines the high sorption of natural cellulose and the cleanliness and strength of polyester.
Clexia®Cloth offers the lowest level of releasable ions and non-volatile contaminants, contains no chemical binders and tolerates most standard solvents. Its blend of 55% cellulose and 45% polyester provides the optimum balance of sorption, durability, and cleanliness
Good for wiping
*  wiping maintainance of machine tool and big equipment,
*  wiping sensitive electronic components
*  general cleaning of anti-static sensitive environment,
*  dry wiping of LCD, glass, touch panel,
*  wiping in biopharmaceutical industry,
*  photovoltaic industry,
*  communications equipment manufacturing,
*  automation instrumentation,
*  computer accessories manufacturing,
*  package test,food and beverage processing,
*  flat panel display processing,
*  screen printing,
*  automobile manufacturing.
For samples or more information please contact us on 17712669618 or e-mail us  [email protected]
We are one of the largest non-woven fabric products manufacturers.
Welcome to visit our factory in China.
All of our products are made according to customers' requests. 
Why choose us?
Put the Quality as the first consideration;
Rich export experience for more than 16 years in manufacturing and selling wiping & cleaning products.
OEM & ODM, customized design/logo/brand and packaging are acceptable.
Advanced production equipments, strict quality testing and control system to make sure superior quality.
Competitive price: we are a professional wiping & cleaning products manufacturer in China, there is no middleman's profit, you can get the most reasonable price from us.
Good quality: We have ISO certification, good quality can be guaranteed, it will help you keep the market share well. 
Fast delivery time: we have our own factory with 15 production lines and professional manufacture ,which save your time to discuss with the trade company, we will try our best to meet your request.
Any enquiry, freely contact us.