ORDER®OD-0131 CLEAN WIPER
Model No.:OD-0131
Material: 100% wood pulp
Item Name: Lens clean wiper
Size: 4.4"×8" (110mm*195mm)
Package: 280pcs/box,60box/ctn
Customized size is available
CLEAN WIPER OD-0131 Multi-purpose Delicate Task Lint Free Wiping Wipers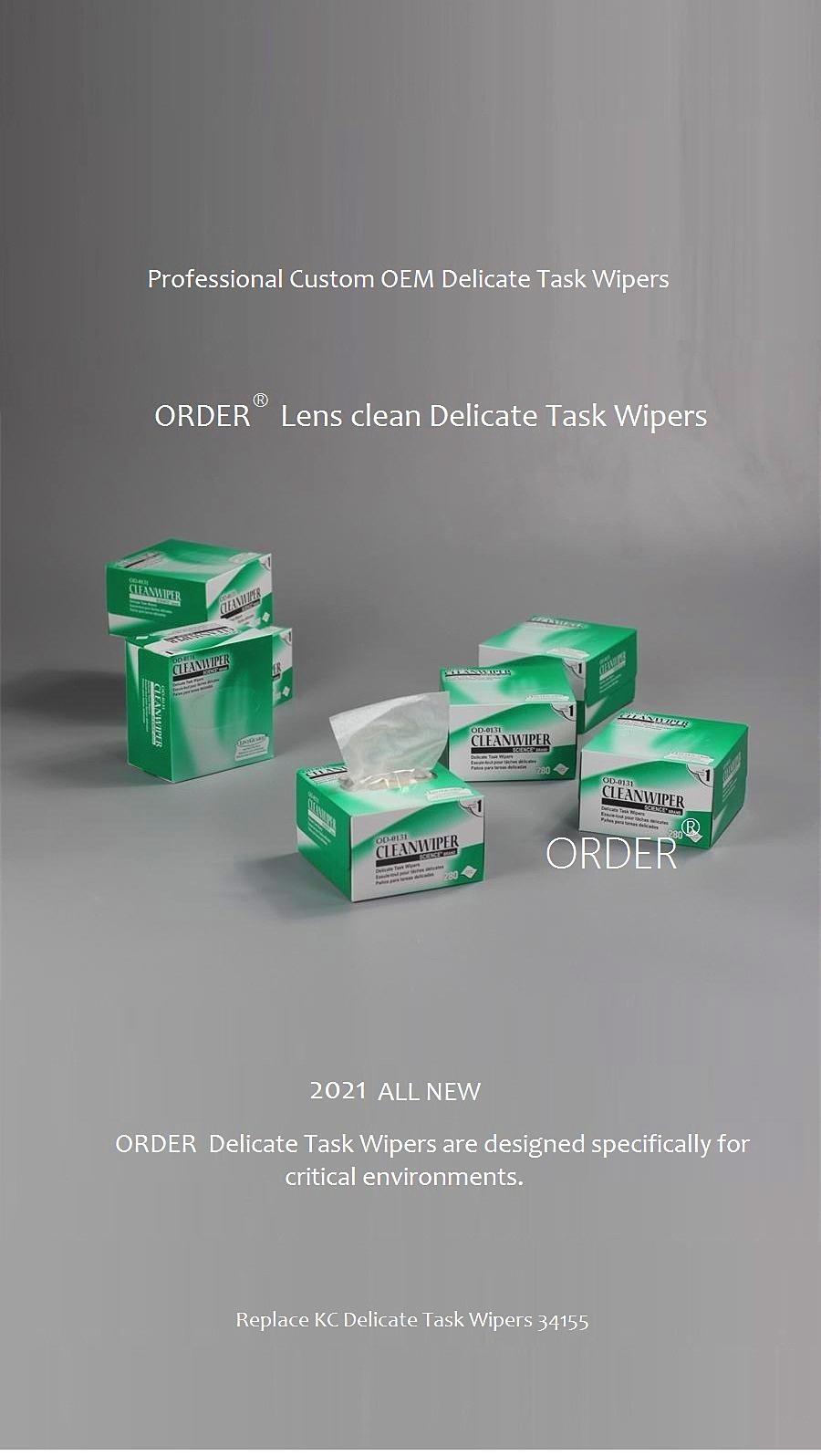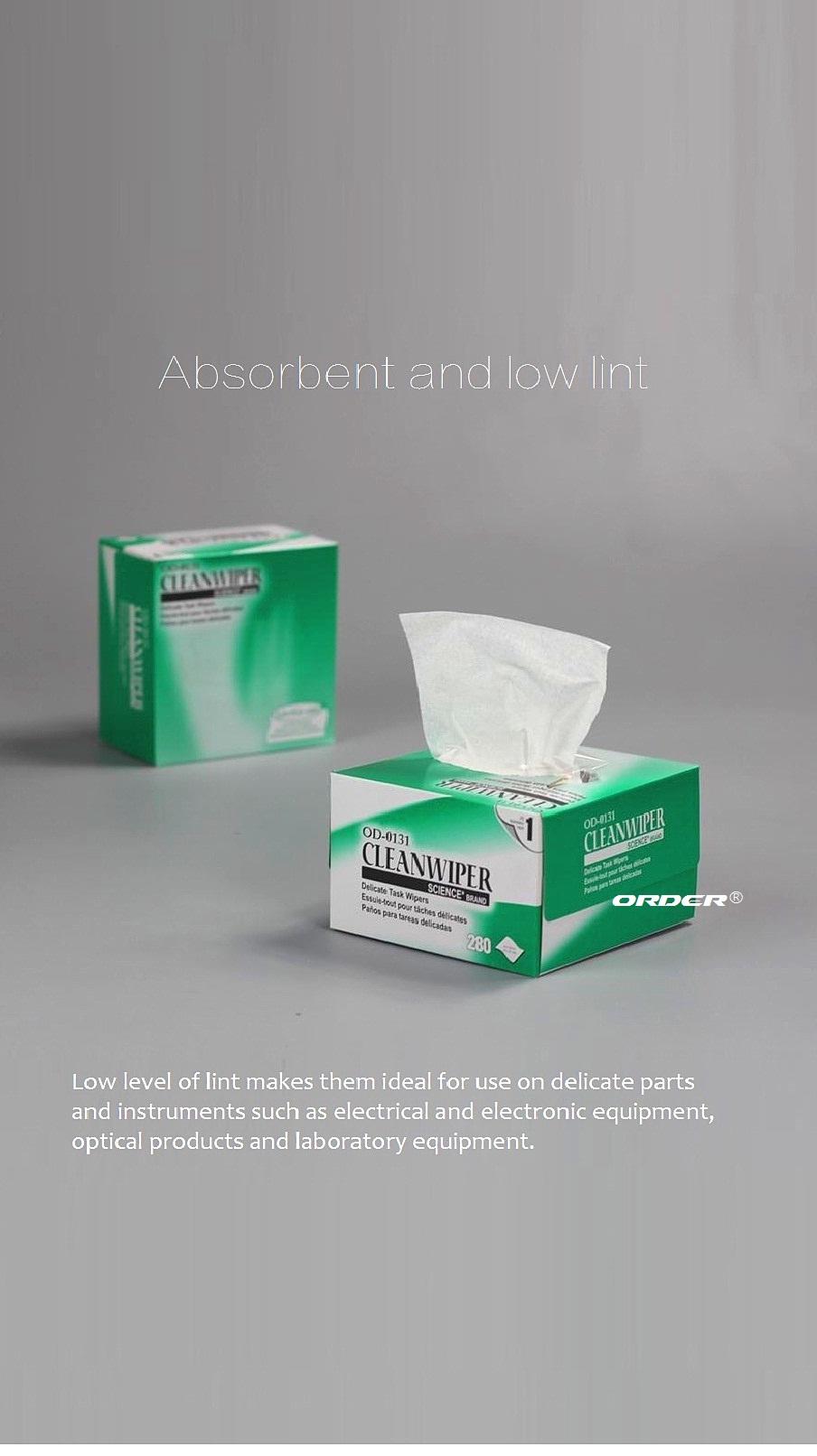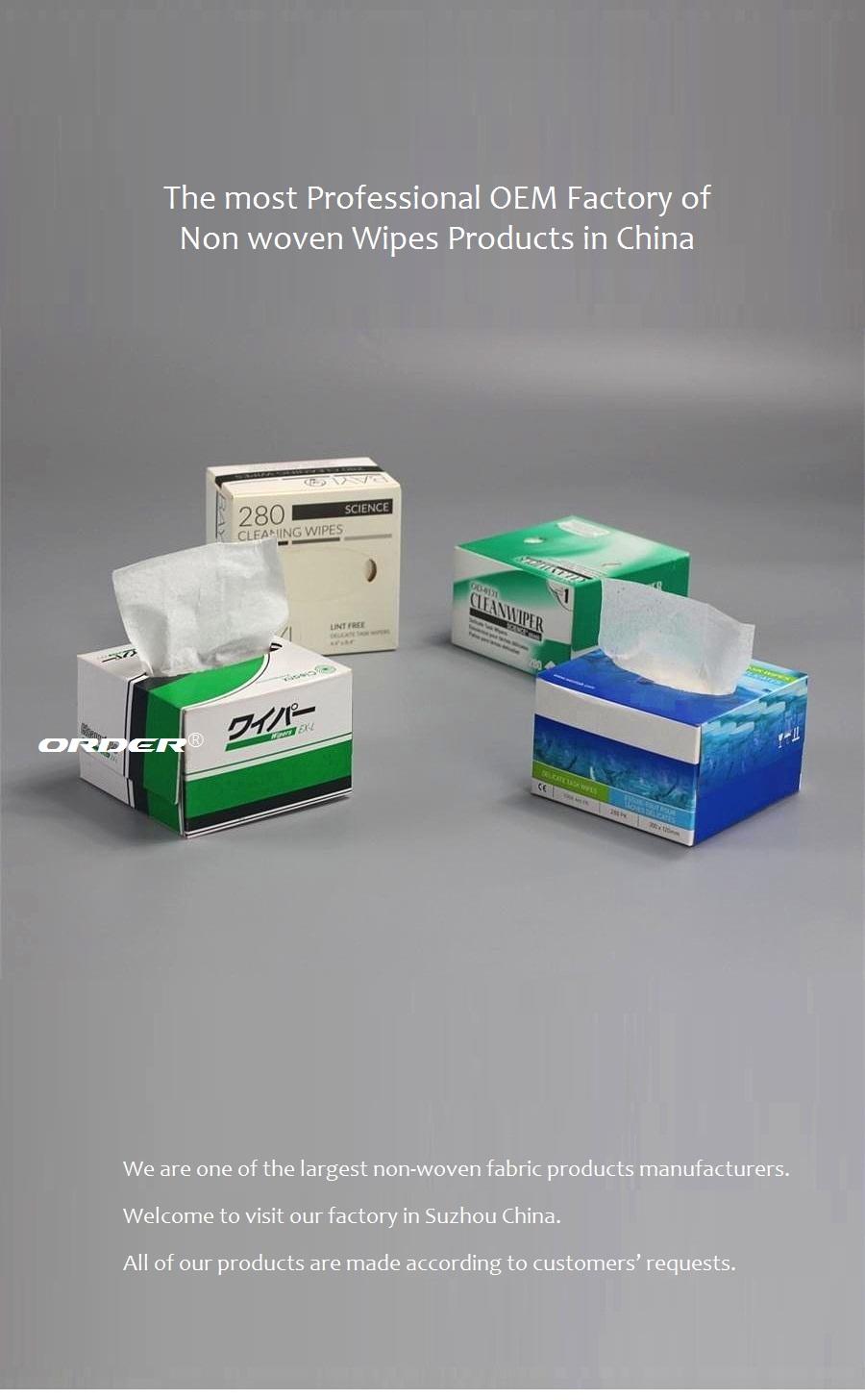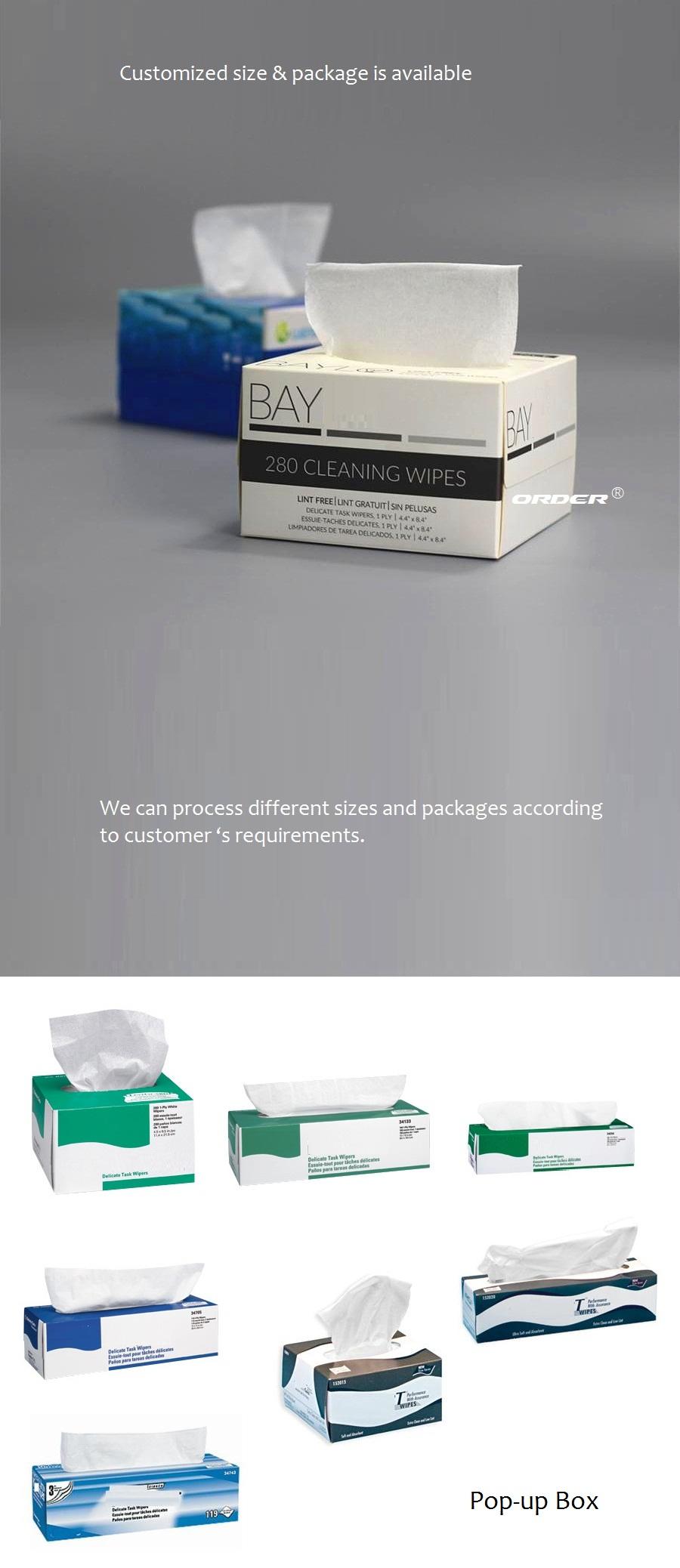 Features:
1. Exceptionally soft, highly absorbent.
2. No adhesives or binders, leaves no residue
3. Ultra-low dust, save a lot of time;
4. Fine paper, will not scratch the surface;
5. Effectively prevent static electricity and dust generation;
6. Good wet and dry strength, not damaged;
7. 100% virgin wood pulp with a special processing, texture clean, efficient absorption
 Application:
1,  Labs, Science, analysis, wipe clean precision instruments
2,  Wipe precision components
3,  Welding operations
4,  Food processing
5,  Printing Equipment for cleaning
6,  Medical/dental offices
Product Description
optic cleaning wipes are specially designed paper fiber optic cleaning wipes which can be used for cleaning laboratory equipment and instruments, camera lens, fiber optic connectors and other electronic items.
These delicate task wipes have been specially designed for cleaning those surfaces where the presence of minimal lint or dust can interfere with the normal functioning of the equipment or electronic item.
Ideal cleaning solution for laboratories and manufacturing facilities.
About this item
OD-0131-34155 is a specialty task wipe for use on optical glass and lenses.
Intended for light duty cleaning of sensitive glass surfaces, these virtually lint free wipes are inter-folded and conveniently boxed for always-clean, one-at-a-time dispensing.
With a built-in poly-film dust layer to wipe away dirt and smudges, OD-0131-34155 easily handle the delicate task of cleaning lenses, test tubes, electronics, computer screens, tablets and more.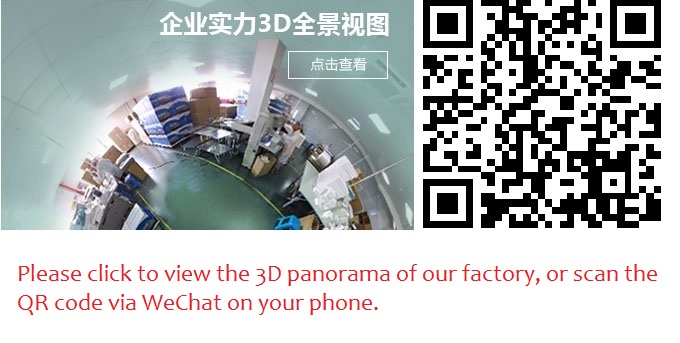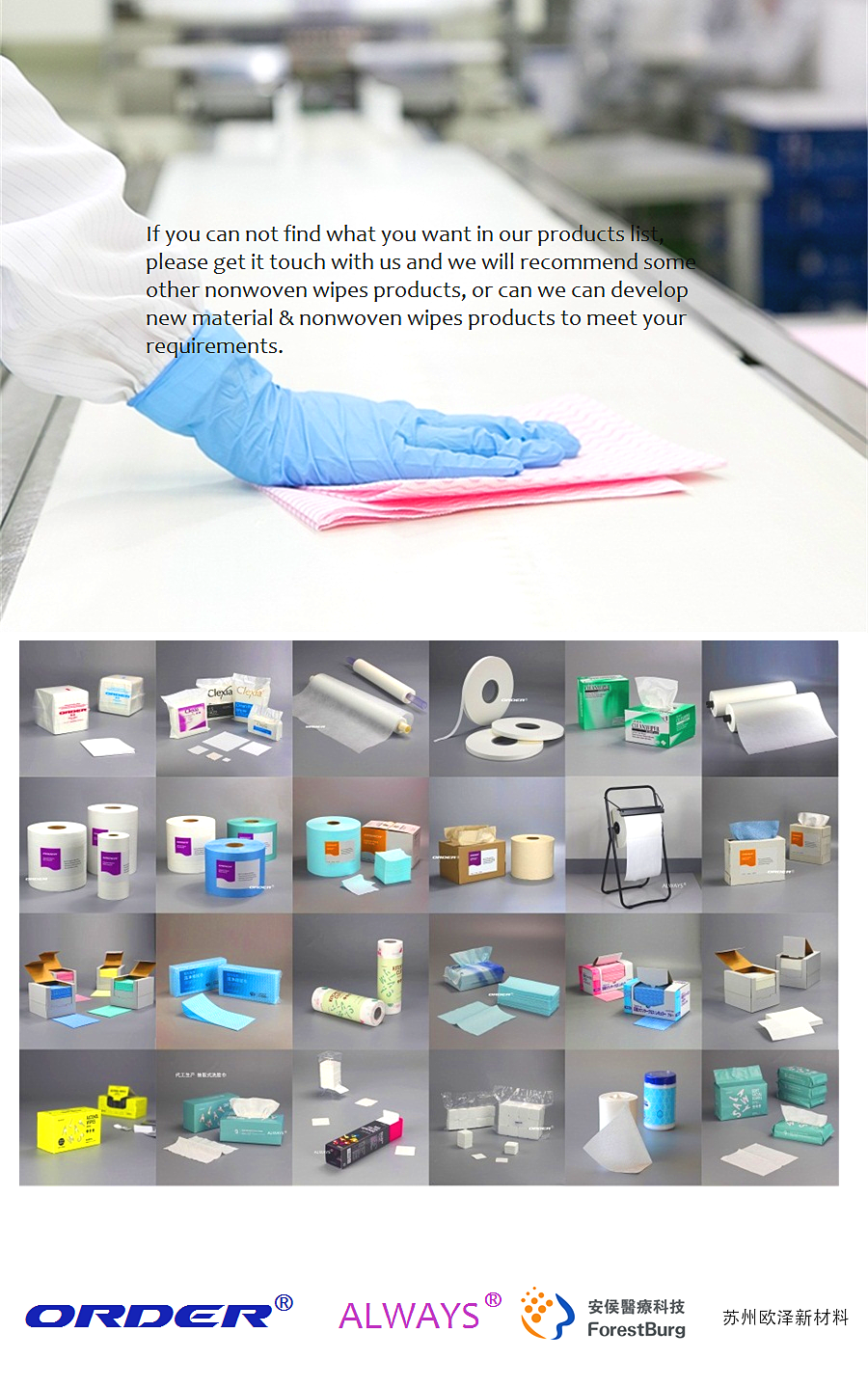 Good for wiping
*  wiping maintainance of machine tool and big equipment,
*  wiping sensitive electronic components
*  general cleaning of anti-static sensitive environment,
*  dry wiping of LCD, glass, touch panel,
*  wiping in biopharmaceutical industry,
*  photovoltaic industry,
*  communications equipment manufacturing,
*  automation instrumentation,
*  computer accessories manufacturing,
*  package test,food and beverage processing,
*  flat panel display processing,
*  screen printing,
*  automobile manufacturing.
 For samples or more information please contact us on 17712669618 or e-mail us  [email protected]
We are one of the largest non-woven fabric products manufacturers.
Welcome to visit our factory in China.
All of our products are made according to customers' requests. 

Why choose us?
Put the Quality as the first consideration;
Rich export experience for more than 16 years in manufacturing and selling wiping & cleaning products.
OEM & ODM, customized design/logo/brand and packaging are acceptable.
Advanced production equipments, strict quality testing and control system to make sure superior quality.
Competitive price: we are a professional wiping & cleaning products manufacturer in China, there is no middleman's profit, you can get the most reasonable price from us.
Good quality: We have ISO certification, good quality can be guaranteed, it will help you keep the market share well. 
Fast delivery time: we have our own factory with 15 production lines and professional manufacture ,which save your time to discuss with the trade company, we will try our best to meet your request.
 Any enquiry, freely contact us.